Latest VV Article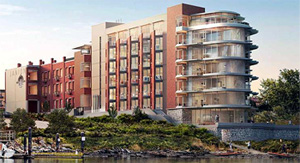 Recent development proposals, approvals and construction starts in downtown Victoria
Despite a perceived slowdown in the downtown Victoria multi-unit real-estate market developers continue to float new proposals as shovels hit the ground on approved projects.
One of the newest major proposals to come before planners is Vancouver-based Chard Development's concept for a 10-storey, 82 unit residential building with ground floor commercial space at 836-838 Broughton Street. Having recently completed an 11-storey luxury tower in the 600-block of Broughton, this project will pad the developer's downtown Victoria roster for a total of five buildings. [
Read more
]
Posts with new content since your last visit
The most recently updated topics are displayed at the top of this list. If you are logged in as a member, clicking on a blue "star" or "dot" to the left of the topic title will take you to the first post that you have not yet read in that topic.
By content type
By time period
Forums
in

Victoria Photos and Local Contests
Started by HJ, 23 Feb 2007

3,318 replies
304,858 views

in

Infrastructure
Started by Bingo, 31 Jan 2014

in

City of Victoria
Started by Mike K., 18 Mar 2011

Condo

1,891 replies
155,777 views

in

General Discussion
Started by VicHockeyFan, Yesterday, 07:23 AM

in

World Events
Started by Gary H, 07 Mar 2014

in

City of Victoria
Started by gumgum, 03 Mar 2007

Condo

,

Commercial

in

Retail Establishments and News
Started by VicHockeyFan, 27 Oct 2006

1,658 replies
103,466 views

in

Heritage Building Restorations & Heritage Issues
Started by Jon S, 07 Jun 2012

Condo

,

Commercial

in

Heritage Building Restorations & Heritage Issues
Started by gumgum, 01 Feb 2013

in

Urban Design
Started by Baro, 02 Apr 2010

in

City of Victoria
Started by Mike K., 29 Jun 2008

Condo

,

Office

,

Commercial

in

General Discussion
Started by Marilyn, 22 May 2008

in

Urban Issues
Started by History Buff, 08 Feb 2014

in

Saanich, Esquimalt, Oak Bay, Saanich Peninsula, View Royal and the West Shore
Started by DelsterX, 12 Sep 2006

2,378 replies
203,298 views

in

Print, Televised and Radio Media
Started by VicHockeyFan, 04 Jun 2010

in

Victoria Photos and Local Contests
Started by gumgum, 20 Oct 2006

in

Ask a REALTOR®
Started by MarkoJ, 30 Dec 2011

in

Retail Establishments and News
Started by VicBooster, 22 Nov 2009

in

Saanich, Esquimalt, Oak Bay, Saanich Peninsula, View Royal and the West Shore
Started by amor de cosmos, 02 Apr 2012

in

Print, Televised and Radio Media
Started by Bingo, Yesterday, 05:42 AM

in

Saanich, Esquimalt, Oak Bay, Saanich Peninsula, View Royal and the West Shore
Started by Mike K., 13 Feb 2014

in

Victoria Photos and Local Contests
Started by Oxford Sutherland, 20 Oct 2006
Posts with new content since your last visit