As I posted in the
Nanny State thread
the government is taking our lightbulbs away from us.
Well, some of them.
After current inventory is sold, 75w and 100w bulbs will no longer be sold after Jan 1, 2011.
According to a
Wikipedia chart
, a 100w light bulb outputs 1700 lumens of light, or 17 lumens per watt of energy used. A 75w bulb outputs 1200 lumens of light, or about 16 lumens per watt.
Interestingly, lower wattage bulbs produce less light per watt than higher wattage bulbs. So, in the interest of efficiency I suggest the lower-wattage bulbs be banned and let us keep our 75w+ bulbs. You can always dim the brighter bulbs if you're worried about saving money.
In the event that not everyone knows this, you cannot put a regular CFL bulb into a socket with a dimmer switch. There are some CFL bulbs on the market that can be dimmed, but they're expensive, may require special dimmers and don't dim as nicely as incandescent or halogen bulbs.
For a while I had CFL bulbs in my hallway. They were bright but I hated them. Colour rendering was all screwy and they couldn't be dimmed. I replaced the fixtures with halogen fixtures and replaced the switches with dimmers. IMO, they're much more elegant and easier on the eyes. It's nice to be able to dim them for ambient background lighting. If you have a hallway with two light switches, some dimmers allow for dimming control from both switches.
If you ever crack open a CFL bulb here's what you find: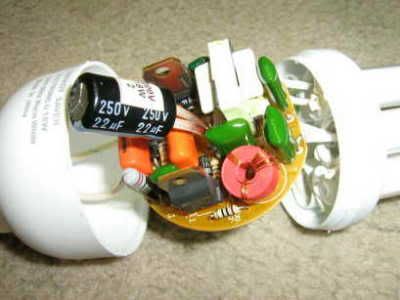 Yes, all of that inside a lightbulb.
So, if you need the bright light, find some nice halogen fixtures and stick them on a dimmer if you're concerned about energy use. Then promptly tell the government to go shove their bulb bans where the light *don't* shine.