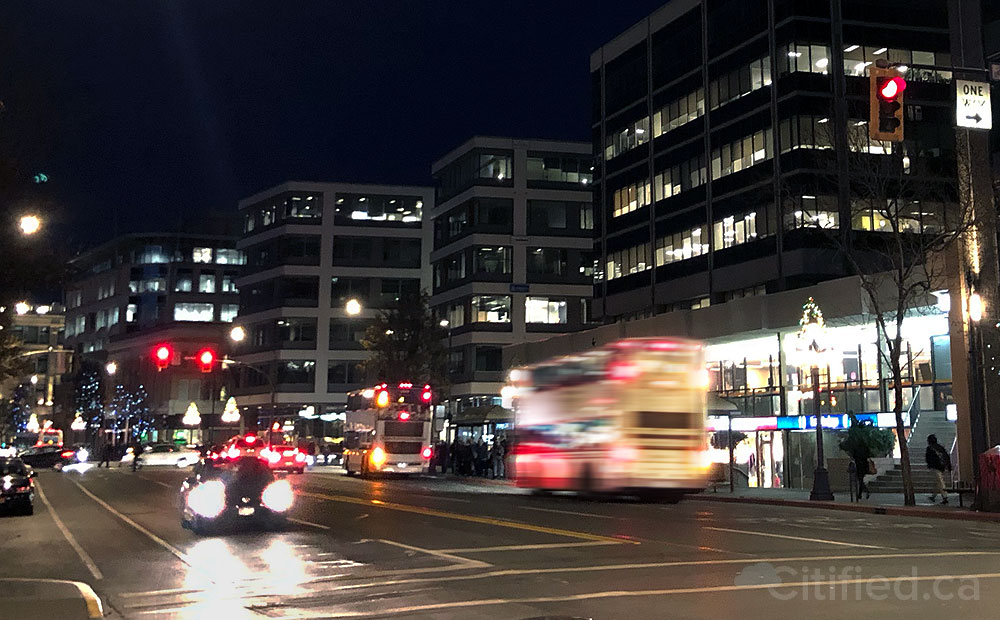 A BC Transit double decker bus travels along Douglas Street in downtown Victoria. If a plan to extend late-night transit services gains support from the Victoria Regional Transit Commission, late-night buses could be departing from and to downtown Victoria as late as 3AM on Friday, Saturday and select holiday nights.
3AM late-night transit services to and from downtown Victoria mulled for 2019
https://victoria.cit...ulled-for-2019/
Late-night transit services in the Capital Region could be extended to 3AM as part of next year's Victoria Regional Transit System scheduling improvements, Citified has learned.
On Tuesday, December 18th the Victoria Regional Transit Commission will vote on whether to back three recommendations brought forward by transit planners for the 2019/2020 operational year calling for an additional 20,000 operational hours.
Among them are amendments to Friday, Saturday and select holiday late-night scheduling for routes 4, 6, 14, 15, 27, 28 and 50 that would push last bus departures to between 2:30AM and 3AM for services between downtown Victoria and Esquimalt via routes 14 and 15, View Royal via route 14, Langford's town centre via route 50, suburban Saanich via routes 6, 27 and 28, and UVic via Camosun College's Lansdowne campus through routes 4, 14 and 15. [
Full article
]