Fore!: Three-year sponsorship for newly-named Royal Beach Victoria Open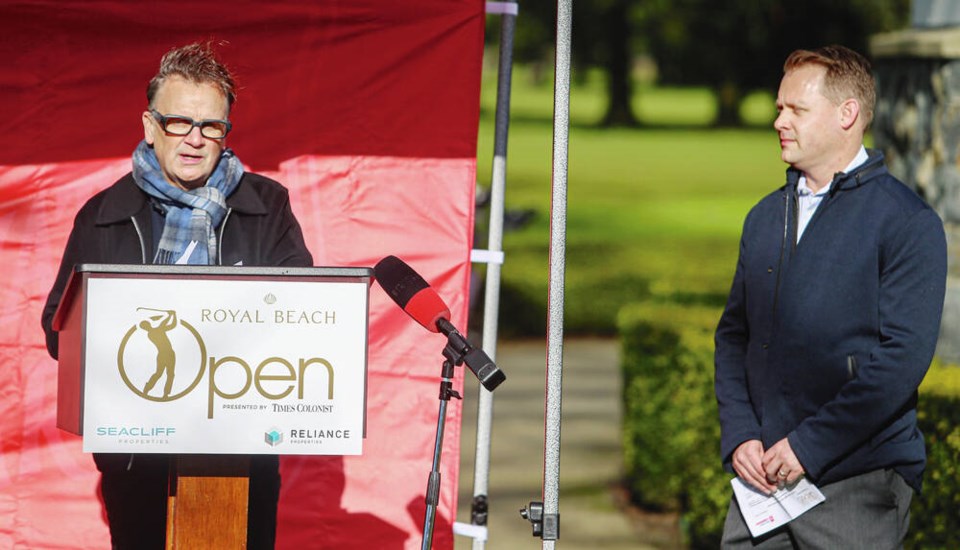 Jon Stovell of Reliance Properties, left, and Jeff Luccock, with Seacliff Group, announce a new sponsorship deal for the Royal Beach Victoria Open, presented by the Times Colonist, on Monday at Uplands Golf Club.
Jeff Luccock says Phil Mickelson became his favourite player because lefties tend to be kindred spirits. Jon Stovell liked the freshness Rory Mcllroy and Rickie Fowler brought to the sport when they were emerging a few years ago.
Whoever they root for, Lower Mainlanders Luccock and Stovell are united in their love of golf. They have secured the future of the Island's annual $200,000 pro tournament for at least the next three years with the announcement Monday the event will be known as the Royal Beach ­Victoria Open, presented by the Times Colonist, through 2024.
Stovell is the president and CEO of Reliance Properties and Luccock president of Seacliff Properties, which have partnered on the $1.2-billion Royal Beach residential and commercial development in Colwood to be built out over 15 years.
Stovell came on board last year as a co-title sponsor of the then-named Reliance Properties DCBank Victoria Open.