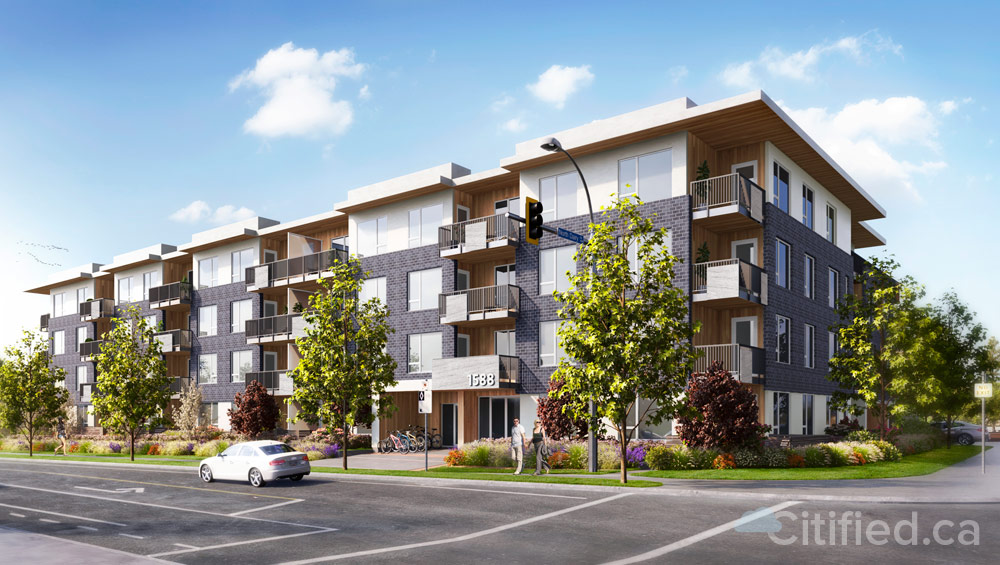 An artist's rendering of 1588 North Dairy Road, a 62-unit condominium proposal developed in response to Saanich's newly-introduced Shelbourne Valley Action Plan urban planning and development guidelines. The project is scheduled for a public hearing on April 24th.
Re-envisioned North Dairy Rd. proposal responds to Shelbourne Valley Action Plan, gets nod to go to public hearing
https://victoria.cit...public-hearing/
Victoria-based Abstract Developments has re-envisioned its initial proposal for a four-storey residential building along the Saanich-Victoria municipal border, Citified has learned.
Based on feedback gathered through multiple rounds of community engagement sessions and in response to Saanich's Shelbourne Valley Action Plan (SVAP), the project is destined to become one of the first examples of the municipality's newly-introduced development guidelines for the Shelbourne Street corridor.
Planned for 1588 North Dairy Road between Keats and Wordsworth streets, the 62-unit condominium will feature a mix of one and two-bedroom residences within short walking distance to the Hillside Shopping Centre commercial district and major bus routes.
Abstract submitted its development concept to Saanich in April of 2017 with a subsequent Committee of the Whole airing before council in December.
Subsequent community feedback encouraged the stepping-back of the fourth floor to the north, along with underground parking in lieu of above-grade stalls, both of which Abstract introduced as part of its latest design concept.
Private outdoor gathering spaces plus changes to both the building's landscaping and exterior façade were also outcomes of several months of community engagement and feedback from councillors.
On April 9th Saanich council unanimously approved sending the project to a public hearing slated for 7PM on Tuesday, April 24th at Saanich Municipal Hall's Council Chambers. Members of the public will have the opportunity to address council regarding the project at the hearing. [Full article]