Reliance Properties has dropped its earlier proposal for an eight-storey condominium project at the Northern Junk site and on City lands in favour of a six-storey (five from Wharf Street) rental building solely on the Northern Junk lands. The design has not yet been released.
The discussion on the condominium proposal can be found here.
Citified profile: http://victoria.citi...-northern-junk/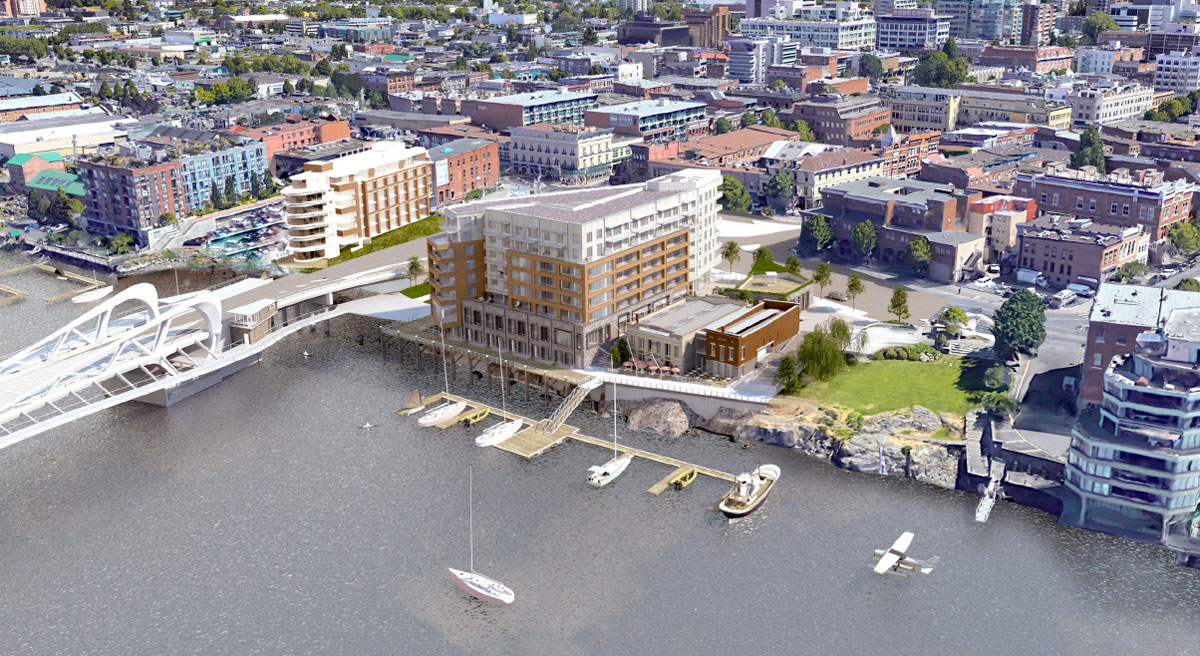 An artist's rendering of Reliance Properties' sixth design revision of the Johnson Street Gateway project on Wharf Street at Johnson Street. The eight-storey building depicted in the photo above has been nixed in favour of a shorter and smaller as yet-unreleased design on a significantly smaller development site.
Victoria's trepidation over bridge land sell-off forces Northern Junk proposal to slim down, nix condos in favour of rentals
https://victoria.cit...our-of-rentals/
The City of Victoria's about-face over the sale of excess Johnson Street Bridge lands has forced a decade-long harbourfront development proposal to drastically alter its design and scope, Citified has learned.
Sources at the City of Victoria tell Citified that Reliance Properties' plans for Johnson Street Gateway, a mixed-use condominium and retail project that would simultaneously restore the historic Northern Junk buildings at 1314-1324 Wharf Street, have been shelved in favour of a purpose-built rental complex with fewer floors, a significant reduction in residences and zero on-site parking.
Since 2010, Vancouver-based Reliance Properties – the firm which restored the historic Janion Hotel and built its oceanfront addition overlooking the northwest corner of the new Johnson Street Bridge – has been pursuing municipal approvals for a mid-rise project that from the outset was expected to absorb excess City-owned land made available through a re-alignment of the bridge's eastern approaches.
Despite Reliance's plans to spend significant sums of money on the heritage restoration of the Northern Junk buildings and undertake a costly remediation of the City-owned lands in addition to their purchase, sustained critical feedback from City Hall saw Johnson Street Gateway's design change six times between 2011 and 2018, with the seventh revision now making its way through the approvals process. [
Full article
]