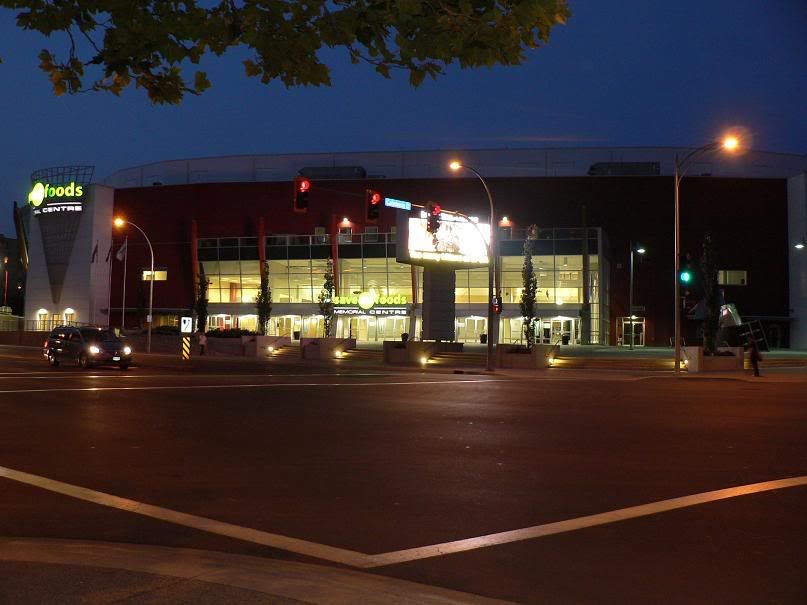 This is Save On Foods Arena. In the 1940's Victoria built an Arena that lasted us 60 years. It was built when Victoria had the population of almost what Port Alberni has today. The seating capacity of that arena "Memorial" was 5000. Now in 2006 work is still not completed on this new arena. Victoria has grown by 6X what it was in the 40s. The seating in this arena is only 2000 seats more than the old Memorial for a total of 7000 seats. Thanks due to another under achieving development, this city has given the green light to Langford who is now planning a 12,500 + seat arena in the Western Communities.
Before the Common Wealth Games the Federal Government was willing to kick in a 50 percent grant of the total cost of a new arena. The City put out a referendum on it. Though as great politicians they were, they did a nasty. The only way citizens could vote for a new arena is if they also voted for a new sewage treatment plant and a list of other things. It was an all or nothing vote. Though everyone wanted the new arena Victorians didn't want to pay the tax dollars on the Sewage plant. So it failed and the City paid a total of 9 million dollars renewing the old Memorial Arena. A new roof, all new seats, a new ice surface, a new clock, a new sound system and the list goes on. Oh and the beauty of it, because it was not a new arena the Feds didn't have to pay anything. So if the City put that 9 million dollars into a new arena the Feds would have paid 9 too as well the provincial government was going to cough some up too.
So with the great foresight our city had, the arena less than 5 years later was deemed to unsafe and too old. The City got bids from numerous developers. Jim Hartshorne had one at 7500 seats, Mr. Perin had one in China Town at 9,500 seats, and David Passant had one at 9,000 seats, which grew larger as his proposal changed and others.
The City asked for a public input session. The people were allowed to vote. Personally I voted for the China town arena. Which was to have new walk ways around the ocean front was to connect to the cause way at some time. Funny thing is so did the majority of the people. This shocked City Staff because they really wanted David Peasant's project. Since he was an owner of the now defunct IHL Spider franchise. So the city went against what the people voted and went with David Passant's Sports Entertainment Proposal.
It grew to a large proposal. The arena grew to 10,500 seats it was to have two separate ice surfaces for trade show purposes and to provide Victorians with the much needed extra ice sheets. At the latest stages of this proposal the Courtnal Brothers and other business leaders came out and stated that this was much too large for Victoria and they helped rally up a protest and killed the project.
Now the City of Victoria has it's arena with a dismal 7000 seats, while Langford is proposing/planning it's 12,500 seater, with the help of the Bear Mountain team. Oh and who is on this Bear Mountain Development team...yeah you guessed it The Courtnal Brothers! Ahhh now it all makes so much more sense.
Langford Council has stated that being located between Nanaimo and Victoria Centrally located in the middle of 600,000 people; they are the prime location for the region's much needed entrainment facility. They are also in co operation with the other main Western Community Councils working towards a 12,000 plus outdoor stadium too. They are working with Soccer Canada on this and council has stated that it could be built in the next 5 years.
So thanks for the great Vision Victoria as you have under achieved and gave up another prime center piece for this city. This arena is another Victoria Conference Center, Too Small, Too Late, and Poorly designed (when ever finished). By the way Nanaimo's conference center will be 5 X the size of Victoria's---but that's another story. :?