It's been 20 years since Jesokah Adkens, 17, vanished without a trace
Times Colonist -

26 Sep 2021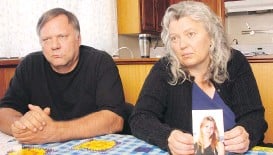 Clayten and Jocelan Adkens, parents of missing Jesokah, in 2008, seven years after their daughter went missing.
Cars and trucks rumble by the faded memorial on the side of the winding highway into the village of Sooke.
Twenty years ago, this site on the shoulder of the road was a bus stop where blonde, blue-eyed, 17-year-old Jesokah Adkens was seen for the last time.
It would have been dark and quiet at that bus stop around 9:30 p.m. on
Wednesday
, Sept. 26, 2001, with nothing around and long waits between buses. And Jesokah, who looked young for her age and was known to hitchhike, was alone.
She vanished without a trace.
It was
Saturday
before her parents knew she was missing. The teenager had recently moved into her own place but remained on good terms with her parents. Clayten and Jocelan Adkens thought it was unusual when they didn't hear from her on
Thursday
. On
Friday
, Jocelan went to the house to check on her, but she wasn't there. On
Saturday
, they talked to her roommate, who said she had not seen Jesokah since
Wednesday
.
Police immediately suspected foul play. Jesokah had left her backpack, identification and beloved German shepherd pup Daphne at her house. Money in her bank account was untouched.