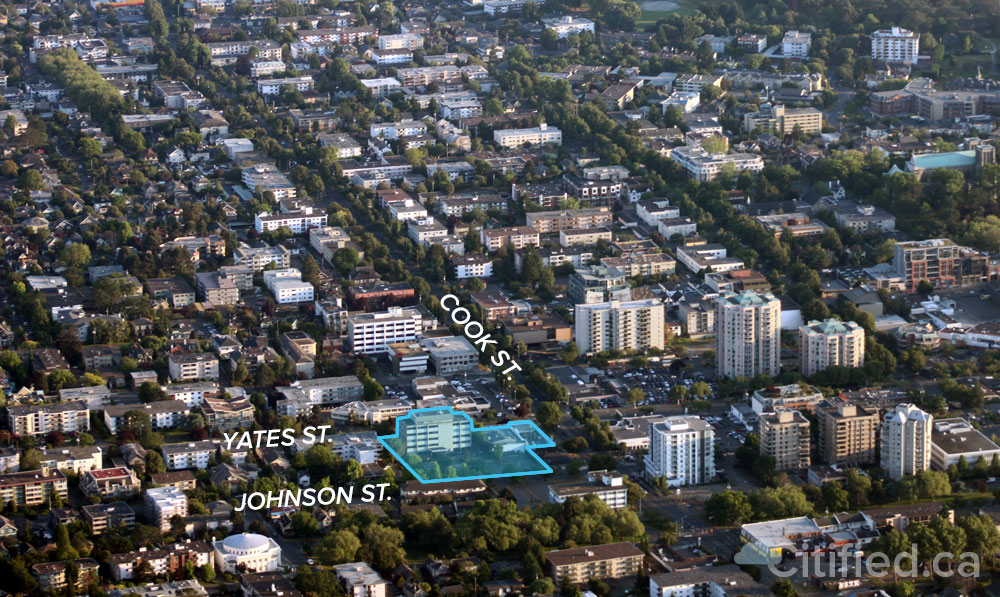 An aerial view downtown Victoria and the Fernwood neighbourhood. The outline (in blue) of Chard Development's three-building project site between the 1100-blocks of Yates and Johnson streets at Cook Street shows its context within the two districts.
Citified profiles:
- 1100 Yates Street (condominium)
- 1315 Cook Street (affordable condominium)
- 1009-1117 Johnson Street (rental)
Downtown daycare, affordable condos pitched as part of three-building redev of high-profile Ithaka Greek Restaurant block
https://victoria.cit...staurant-block/
A high-profile city block enveloped by the busy thoroughfares of Yates, Cook and Johnson streets is poised for redevelopment into a mixed-use residential and commercial node, Citified has learned.
Vancouver-based Chard Development has unveiled plans to transform several parcels surrounding the Victoria Professional Building at 1120 Yates Street into a condominium tower at the corner of Cook and Yates streets, an affordable condominium along Cook Street, and a rental complex fronting onto Johnson Street.
The aged mixed-use office and retail building will undergo an interior and exterior modernization along with a comprehensive expansion of its on-site parking via a multi-storey underground parkade accessible to commercial tenants, their clients and future occupants of the three residences. [
Full article
]