rcmp is probably visiting her house right about now
Earlier this week, the so-called QAnon Queen of Canada opened up "duck-hunting" season in the Great White North.

Now, to be clear, we aren't talking about hunters in hip waders going after our fine-feathered friends with a loyal hound by their side. These "duck hunters" are "soldiers" of Roman Didulo—a Canadian woman who has convinced thousands of QAnon adherents that she's the secret ruler of Canada—targeting health care workers administering COVID-19 vaccines to children, politicians, journalists, and others who make up the cabal at the heart of the QAnon conspiracy.

In a post on Sunday to her over 70,000 followers on Telegram, Didulo issued an order to the soldiers of her "Kingdom of Canada's Military." She demanded the mass arrests of those they consider opposition, and wanted her soldiers to take control of newspapers and seize the border.

"Shoot to kill anyone who tries to inject Children under the age of 19 years old with Coronavirus19 vaccines/ bioweapons or any other Vaccines," she wrote. "This order is effective immediately."

A follow-up post on Tuesday changed the wording from "shoot to kill" to "arrest."

"Please, use airports, hospitals, schools, stadiums, and other public venues to hold and detain all traitors," the post said. "They will stay there until Military Tribunal is held for each one of them until the day they are executed via firing squad or hanging."

Didulo doesn't have a passive audience; over the summer, the British Columbian woman mobilized her audience into sending out thousands of cease-and- desist letters across North America (some have recently popped up in Europe) demanding businesses, governments, and police forces stop all activities related to combating the pandemic.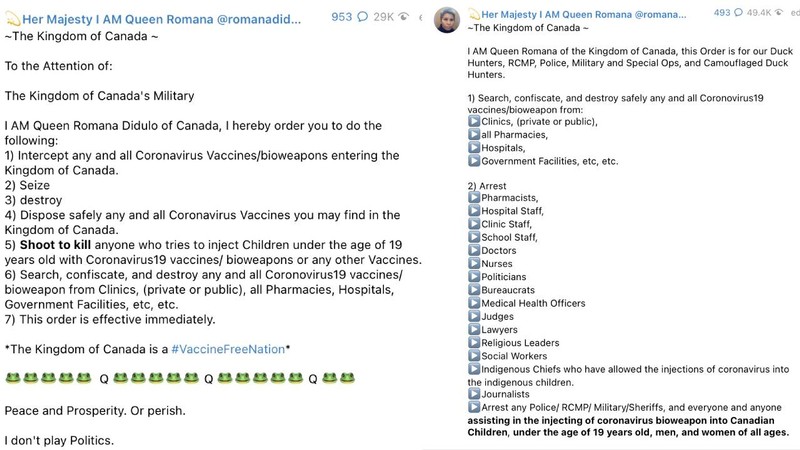 https://www.vice.com...nating-children

The owner of an ice cream company that's giving vaccinated employees a pay raise says he's been inundated with emails from anti-vaxxers.

Canadian ice cream company Chapman's is giving vaccinated workers an extra 1 Canadian dollar an hour ($0.78) from November 28.

Ashley Chapman, vice-president and owner of the Ontario-based company, told CBC Radio that the external reaction to the policy was "very, very aggressive" and that he'd been sent "hate packages" in the mail.

He said that his 78-year-old father got a voicemail "telling him he was like Hitler, and obviously a Nazi, and we should be convicted of war crimes, essentially."

Chapman told The Globe and Mail that the company had received at least 1,000 negative e-mails and "so many terrible, cruel comments on our Facebook group."

"One e-mail asked us why we are employing segregation tactics," Chapman said. "The exact words were: 'Kudos on implementing Nazi-ism into our modern day.'"

The Globe and Mail reported that a photo of Chapman's vaccine policy had been spread in anti-vaccine groups on social media, with some people urging a boycott of the brand.

*snip*

Chapman told CBC that before introducing the pay raise he had been paying for unvaccinated staff to get two rapid COVID-19 tests a week, which he said cost around 40 Canadian dollars ($31.35) per person.

"The rapid tests and the infrastructure needed to deploy these tests costs our company money, so we felt it was only fair to reflect that same investment in the vaccinated with a $1 increase," he told Insider.

"Our policy was created to specifically not demonize or punish our unvaccinated employees," he continued. "We feel that everyone should have a choice whether they are vaccinated or not, but individuals need to own their choice."
https://www.business...ti-vaxx-2021-11

COVID-19: Compliance to household mixing restrictions in England decreased with each lockdown
https://www.eurekale...releases/935805

study of the day
In a rapid communication published today in Eurosurveillance, authors from the World Health Organization's (WHO) Regional Office for Europe, the European Centre for Disease Prevention and Control (ECDC), national public health institutes and ministries estimate that that COVID-19 vaccination prevented almost 470,000 deaths among people aged 60 years and older across Europe between December 2020 and November 2021. This represents slightly over half (51%) of the expected deaths due to COVID-19 in this period.

The authors estimated the number of lives saved in this age group from COVID-19 vaccination in 33 countries, using observed weekly reported deaths and vaccination coverage. For the period from December 2020 to November 2021, reported data on both COVID-19 age-specific vaccination and age-aggregated COVID-19 mortality for people 60 years and older was available and analysed from 33 of the 51 countries in the WHO European Region.

Early implementation of vaccination associated with largest reduction in expected deaths

Pebody et al. show that following the fast development, licensure and roll-out of several COVID-19 vaccines from late 2020 onwards, the uptake of vaccines in the priority groups increased to the effect that by week 45/2021, 80% (range: 20–100) of people 60 years and older had received a complete vaccination series and 84% (range: 29–100) had received at least one dose.

In their calculation, 51% (n=469,186) of total estimated deaths (n=911,302) were averted by COVID-19 vaccination between December 2020 and November 2021; ranging from 93% of deaths averted in Iceland to 6% in the Ukraine. The three countries that had 60% of their population 60 years and older fully vaccinated by week 45/2021 (Moldova, Romania and Ukraine) had a maximum of 20% expected deaths averted over the study period.
https://www.eurekale...releases/936031

COVID deaths top 1.5 million across Europe
https://medicalxpres...ion-europe.html

COVID death data can be shared to make it look like vaccines don't work, or worse – but that's not the whole picture
https://theconversat...-picture-172411

Here, mask wearing is often associated with the historical commands of authoritarian governments. Some have even compared mask mandates to the Nazi policy of forcing Jews to wear distinguishing yellow stars.

This split in attitudes is a relatively new development. People were more cooperative when asked to wear masks in response to earlier health epidemics and other dangers in the 20th century.

Indeed, a 2021 study outlines how approval rates for face coverings during earlier crises were far more collectively positive. During influenza in 1918, the Blitz in Britain in 1941, and the smog outbreaks that occurred in the UK from the 1930s to the 1960s, masks weren't contested like today. What explains this change?
https://theconversat...ed-today-171536

On Friday, CNBC announced that Bitcoin, and several other major cryptocurrencies, are officially entering a bear market state.

"The world's biggest cryptocurrency sank 8% in the last 24 hours to $54,177, according to Coin Metrics data, its lowest level since early October. Bitcoin is down 20% from an all-time high of nearly $69,000 which it hit earlier this month," reported Ryan Browne. "Other cryptocurrencies also plunged Friday. Ether, the second-biggest crypto, fell nearly 11% to $4,027, while XRP slumped 11% to around 94 cents."

The driving force behind this is the announcement of a new, heavily mutated COVID variant in South Africa, which has prompted investors to move to bonds as they fear a potential new global wave of the pandemic — although little is currently known about the new variant's infectiousness, virulence, or resistance to vaccines.

"The World Health Organization on Thursday gave a briefing on the new variant, which is known as B.1.1.529 and is thought to contain more than 30 mutations. The U.K. and other nations have temporarily suspended flights from six African countries in response," said the report. "Global stock markets were sinking Friday, with European stocks set for their worst session in more than a year and U.S. stock futures down sharply."
https://www.rawstory...urrency-prices/

In a video hosted on bit chute, a platform known for its extremist content, a man applies electrodes, a strong magnet and "55 percent Montana whiskey" in the hope of removing a COVID-19 vaccine from a US military veteran.

In another, a gory variant of the "cupping" technique to draw blood from an injection site, making extra incisions with a razor to extract a significant amount. (Insider is not linking to the footage due to its graphic nature.)

Neither method had any hope of working. It is impossible to undo vaccination, a process which works by teaching the body to fight infection itself, and which doesn't rely on substances that can be isolated or removed.
https://www.business...eorists-2021-11

at least nobody has tried the "apocalypse-now" method (yet!), which would be to hack off every inoculated arm (the horror!): https://www.youtube....h?v=mPPGMNOLaMw

Portugal is bringing back some tight pandemic restrictions, less than two months after scrapping most of them when the goal of vaccinating 86% of the population against COVID-19 was reached.
https://medicalxpres...s-high-jab.html

The Czech government declared a 30-day state of emergency on Thursday, closing Christmas markets as well as nightclubs in a bid to stem COVID-19 infections.
https://medicalxpres...lubs-covid.html

Czech President Miloš Zeman back in hospital after positive COVID test
https://www.euronews...after-six-weeks

Israel bans entry to South Africa, six other countries over new coronavirus strain
Foreigners from these countries will not be able to enter Israel as well
https://tass.com/society/1366559

הרב קנייבסקי בתום מפגש עם בכירי מערכת הרפואה: "יש לחסן את הילדים"

באמירה נחרצת, פסק היום הרב כי הורים לילדים בגילאי 5 ומעלה צריכים לחסן את ילדיהם • ההוראה יצאה לאחר דיון מיוחד עם ראש צוות המומחים של "מגן ישראל" ומנהל מערך החדשנות ומכון המחקר של כללית פרופ' רן בליצר, פרוייקטור הקורונה פרופ' סלמאן זרקא, ורופאו האישי של הרב, ד"ר משולם הרט

קמפיין התחסנות במגזר החרדי מקבל חיזוק מאחד מגדולי הדור: לאחר אישור ה-FDA ומשרד הבריאות לחיסון פייזר לילדים בגילאי 5 ומעלה, ועל רקע תחילת מבצע החיסונים לילדים, התקיים היום (חמישי) דיון במעונו של גדול רבני הזרם הליטאי, הרב קנייבסקי. בפגישה נטלו חלק שלושה מבכירי הרופאים בישראל העוסקים באופן שוטף בהתמודדות עם נגיף הקורונה.

הרופאים הבכירים, ראש צוות המומחים של "מגן ישראל" ומנהל מערך החדשנות ומכון המחקר של כללית פרופ' רן בליצר, פרוייקטור הקורונה פרופ' סלמאן זרקא, רופאו האישי של הרב, ד"ר משולם הרט, מנהל המחלקה החרדית בכללית הרב אברהם קונסקי ומנהל מטה ההסברה החרדי של משרד הבריאות מני חדד, ביקשו לשמוע את דעת התורה בנוגע לחיסוני ילדים, לקבל את ברכתו למבצע החיסונים בגילאים אלה ולדון בדרך הנכונה לעודד התחסנות תלמידים ותלמידות במוסדות החינוך בציבור החרדי.


Rabbi Kanievsky at the end of a meeting with senior members of the medical system: "The children must be vaccinated"

In a firm statement, the rabbi ruled today that parents of children aged 5 and over should vaccinate their children and Director of the Innovation Division and Clalit Research Institute, Prof. Ran Blitzer, Corona projector Prof. Salman Zarka, and the rabbi's personal physician, Dr. Meshulam Hart.

The immunization campaign in the ultra-Orthodox sector is being strengthened by one of the greats of the generation: After the FDA and the Ministry of Health approved Pfizer vaccination for children aged 5 and over, and against the background of the vaccination campaign for children, a discussion took place today (Thursday). The meeting was attended by three of the top doctors in Israel who are regularly involved in dealing with the corona virus.

The senior physicians, the head of the Magen Israel team of experts and the director of Clalit's innovation department and research institute, Prof. Ran Blitzer, the corona projector, Prof. Salman Zarka, the rabbi's personal physician, Dr. Meshulam Hart, the director of Clalit's Haredi department and the director of staff The ultra-Orthodox propaganda of the Ministry of Health, Manny Haddad, sought to hear the Torah's opinion regarding child vaccinations, to receive his blessing for the vaccination campaign at these ages and to discuss the right way to encourage the immunization of male and female students in educational institutions.
https://www.israelha...article/5903024

Philippines imposes travel ban on South Africa, Botswana over new COVID-19 variant
http://www.news.cn/e..._1310335378.htm

Russian Covid Pass Protesters Try to Storm Regional Legislature (video)
https://www.themosco...islature-a75682

МОСКВА, 26 ноя — РИА Новости. Директор Национального исследовательского центра эпидемиологии и микробиологии имени Н. Ф. Гамалеи Александр Гинцбург уверен в том, что "Спутник V" покажет эффективность против нового штамма коронавируса.

"Теоретически сложно сказать, насколько эффективна будет вакцина против данного варианта, но "Спутник V" дает наиболее широкий спектр вируснейтрализующих антител по сравнению с другими вакцинами, поэтому вероятность того, что он окажется эффективен против нового штамма по сравнению с другими вакцинами, выше", — заявил он РИА Новости.

MOSCOW, November 26 - RIA Novosti. Alexander Gintsburg, director of the National Research Center for Epidemiology and Microbiology named after N.F. Gamaleya, is confident that Sputnik V will be effective against a new strain of coronavirus.

"In theory, it is difficult to say how effective a vaccine will be against this variant, but Sputnik V provides the broadest spectrum of neutralizing antibodies compared to other vaccines, so it is more likely to be effective against a new strain than other vaccines," - he told RIA Novosti.
https://ria.ru/20211...1760920073.html

The three positive cases are friends who travelled to the nearby city of Suzhou together last week, Shanghai health authorities said at a press conference Thursday evening—adding that all had been fully vaccinated.

Over 500 flights from Shanghai's two major airports were cancelled on Friday, data from flight tracker VariFlight showed.

The Shanghai government also instructed that all cross-provincial package tours involving the city—a major commercial and tourism hub—would be cancelled.

Six Shanghai hospitals have also suspended outpatient services.

"China has accumulated lots of experience in 'dynamic zero-COVID', so our strategy won't change," said Zhang Wenhong, head of the Shanghai COVID prevention expert task force, at a Thursday briefing.

He warned that this could become a "normalised anti-epidemic situation that we may encounter again" in the future.

Around 100 kilometres away, Suzhou—which has a population of some 13 million people —- closed down tourist attractions and required residents to provide negative test results to leave the city.
https://medicalxpres...ovid-cases.html

China's strict COVID-19 quarantines are making it difficult for ships to change crews, contributing to lags in the shipping process that could worsen the supply chain crisis.

The country has a zero-Covid policy and is imposing ever more stringent containment measures as it tackles its latest wave of outbreaks. On Halloween night, for example, 30,000 people were locked inside Shanghai Disneyland after just one COVID-19 case was detected. And in the northern city of Shenyang, arriving overseas travelers face a 56-day quarantine.

Now, the export hub is imposing mandatory quarantines of up to seven weeks — around 49 days — for Chinese seafarers returning from overseas, Bloomberg reported. These take place in designated facilities and are typically paid for by the employers, according to information posted on various China shipping websites.

The country has also banned crew changes for foreign seafarers, the media outlet reported. Even ships that had their crews changed out elsewhere need to wait before they can enter Chinese ports, Bloomberg added.
https://www.business...antines-2021-11

Televangelist And Anti-Vaxxer Marcus Lamb Gravely Ill With COVID
Marcus and Joni Lamb own Daystar Television Network, the second-largest Christian network in the World behind CBN.
https://crooksandlia...xer-marcus-lamb
Edited by amor de cosmos, 26 November 2021 - 11:22 PM.