A six-storey office building will front onto Douglas Street while the six-storey residential complex will front onto Burnside Road East.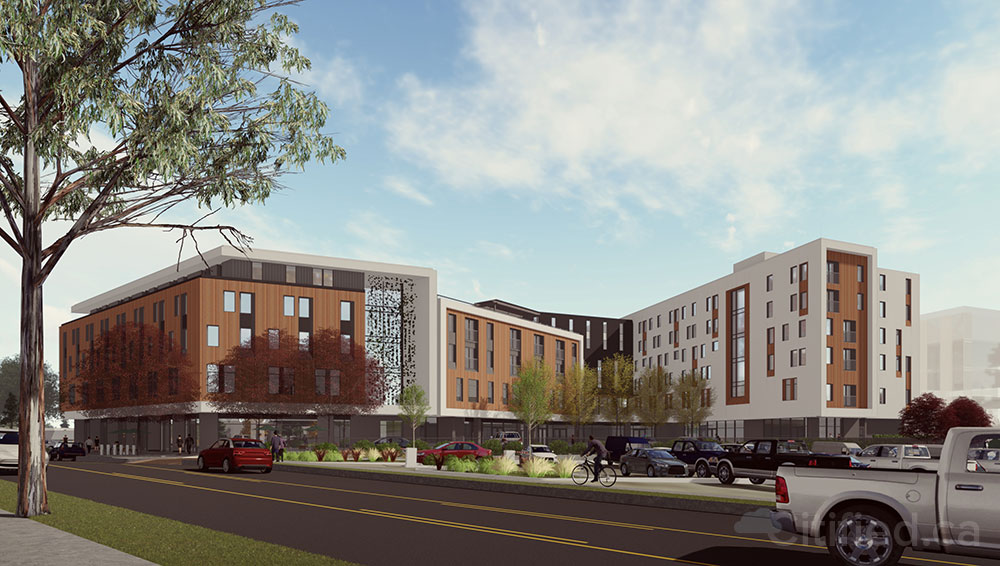 An artist's rendering of Crosstown, a mixed-use affordable rental, retail and office development envisioned for lands occupied by the former Tally-Ho Hotel complex along upper Douglas Street.  Low Hammond Rowe Architects
Affordable rentals and an office complex envisioned for Tally-Ho Hotel site
https://victoria.cit...-ho-hotel-site/
A former hotel complex-turned social housing residence along Victoria's upper Douglas Street corridor is eyed for redevelopment into a mixed-used, multi-phased affordable rental and commercial project, Citified has learned.
The 52-room Tally-Ho Hotel property spanning between the 500-block of Burnside Road East and the 3000-block of Douglas Street was
acquired by BC Housing in the spring of 2017
for the purposes of converting the suites into supportive housing owned and managed by the Victoria Cool Aid Society. It has been operating in that capacity since early 2018.
Earlier this year Cool Aid, working with affordable housing builder TL Housing Solutions, unveiled plans to transform the nearly 60-year-old hotel and its adjacent parking lot (accessible via Burnside Road East) into a proposal dubbed Crosstown that would include over 150 affordable rental apartments, retail spaces and offices within two low-rise buildings. [
Full article
]