Melissa McDevitt's father joins search as concern grows over missing hiker: 'The worst could be unbearable'

The father of Melissa McDevitt, whose disappearance prompted a wide-scale search in the Sooke region over the weekend, tried to remain optimistic Tuesday even as he acknowledged the possibility he may never see his daughter again.

Tom McDevitt flew in from North Carolina Monday night to join more than 30 search and rescue crew members looking for his 39-year-old daughter, who has a rare genetic condition and is considered "high-risk" due to the circumstances surrounding her disappearance.

Family members were first aware something was wrong when Melissa missed a Saturday flight from Vancouver to North Carolina to visit them. They later learned she didn't even show up at the ferry she would have had to take to catch the flight and eventually found her vehicle abandoned in a parking lot near the Sooke Potholes.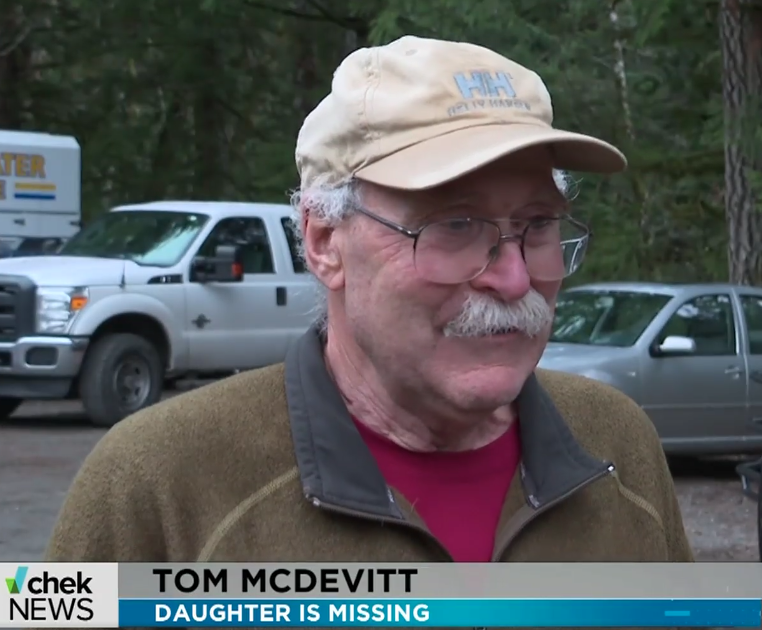 "I talk to her every evening just to see what she had done and when I called her about 10 o'clock (EST) on Friday night it rang a couple times and then went to voicemail," said Tom.
He called back several more times, with the calls eventually going straight to voicemail, and at 5 a.m. local time, he called Melissa's strata to have them check her unit. The door was unlocked and the person on the other end of the phone found her passport and her bag packed, ready to come home.
Friends told CHEK News Tuesday Melissa is confident in her hiking abilities and would have been prepared with snacks and water, which means her sudden disappearance is all the more concerning.
"It's not like big mountains but it's still treacherous, if you go off the main path you can get into trouble," said friend and fellow hiker Cam Bondeson, who added he has hiked the same exact trails with Melissa.
More
:
https://www.cheknews...arable-1121774/